Flint's 2016-2017 Squirrel and Raccoon season
I didn't get out as often as I'd have liked, and the public hunting lands around where I live suck, but we did manage to get some game this year. Mainly raccoons, some squirrels, and a couple opossum. Flint got some really good trees on squirrels and raccoon, but I wasn't able to get too many pictures or video of that since he quits barking when I get there, and I often forgot to take out my phone. I sometimes took my Shiba with us when hunting at night, he's a gritty little thing that loves a good tussle.
Here's some pictures and a couple clips I did get.
Barking at a red squirrel.
Flint killed this smallish raccoon on his own.
This fox squirrel was hidden by leaves and was making a lot of racket. Flint made 12 trees on opening day but I couldn't shoot any out since the leaves were too thick.
This morning started out cold, but warmed up to 70 degrees by the time we left.
One day Flint caught a chipmunk. He didn't like how I put it on the hood of my truck and kept dropping it onto the ground.
Flint treeing a raccoon. If they are really low, he will continue to bark when I arrive.
A couple Eastern grey squirrels. Flint later stole these when I was cleaning them and ate them both.
This one got caught on a branch when I shot it out, I had to poke it down with the shotgun.
I shot this one out but didn't kill it, Flint finished it off.
A lot of the public land around me is very swampy. Flint was balls deep in mud a few times.
I drove up north a couple times and got some roading in. Flint found a few squirrels and flushed a grouse. He's been real birdy since he was a little pup, I just haven't had the opportunity to shoot any for him.
Flint with an opossum. He didn't damage this one so I let it go.
The fattest raccoon I have ever seen. Flint tussled with this guy on the ground for a bit before it went up the tree.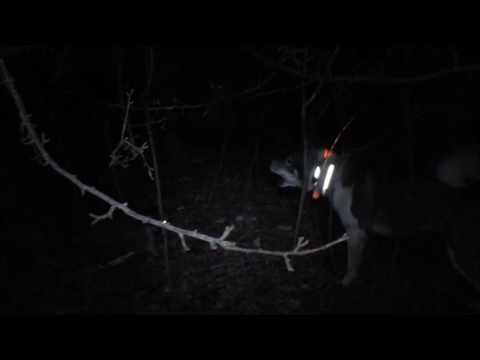 Flint and the fat raccoon before I pulled him off and let it tree. He is really difficult to remove from an animal he's got bayed up on the ground.
Three raccoons. One of them was an idiot and bailed right onto Flint. Didn't end well for that coon.
Flint with the idiot raccoon. I ended up killing it with my knife.
My Shiba with a large opossum he killed on his own.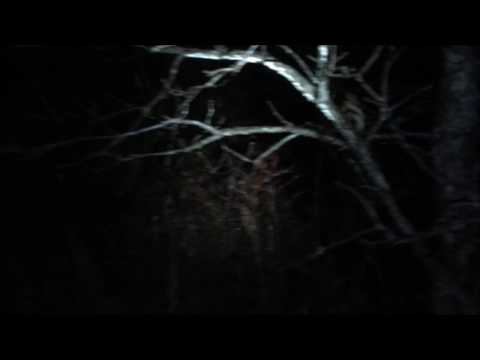 Flint baying a raccoon on the ground before it trees right as I arrived. Gives a little glimpse of the thick brush we usually end up finding raccoons in around here.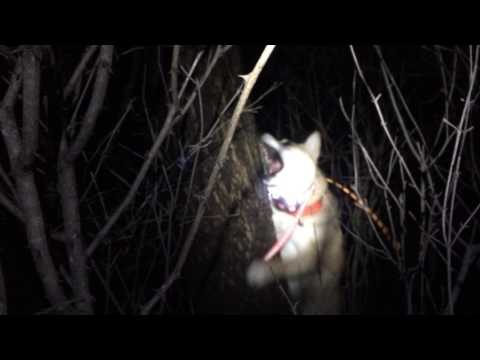 Flint had put a raccoon up this tree before Conker got there. This little crazy dog lives to fight raccoons, he will freak out at the tree he knows one is in. A coyote showed up minutes after we left and barked aggressively at us. It was breeding season and I suspect he was not happy there were dogs in his turf.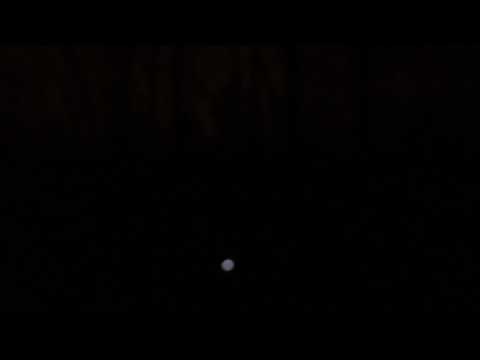 Video of the angry coyote. I talked to it for about five minutes before it got within 70 yards, it was close enough I could hear it pacing in the brush. After that I decided to head home. The coyotes here are big, and I didn't want my dogs to get into a fight with this one. I was probably pissing it off by imitating it...
A raccoon in a spindly tree.
The sky is bright here at night if there are no clouds (close to a big city). This coon was high enough up I couldn't get a good image of it with the light, so I took this picture instead. It's the blob in the middle of the left branch.
An opossum in a short tree. I don't mind when my dogs find opossum, their fur is soft and I'll eat them if it gets killed.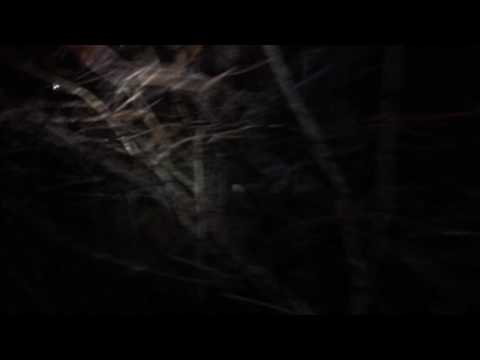 Figures one of the best videos I get of Flint treeing this season was of that opossum. You can see more thick brush in this video.
Flint looking at a raccoon I couldn't get a good picture of.
Some big raccoon tracks.
Another lightless raccoon picture.
Flint with the largest racoon we got this season.
Same big raccoon.
My Shiba was there as well. They fought with this one before I dispatched it. This dog is 27lbs, that raccoon was almost as big as he.